Instrumental insemination instrument, Dipl.-Ing. Ali Ataeian, firm Alvand:
Patent-number : 64827
Model: 102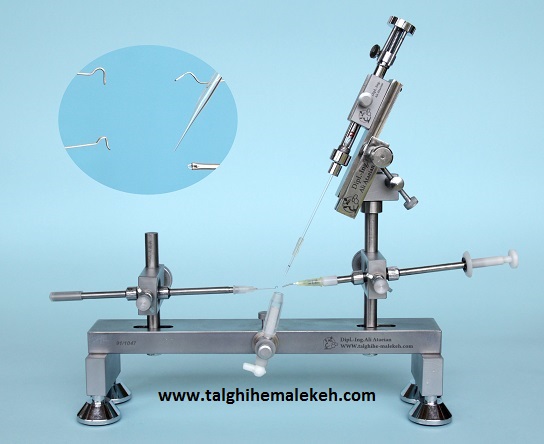 Up to now there are insemination instruments from Dr. Schley and the company Swienty on the market.
My new insemination instrument is further developed, a new generation.
After an investigation this has been certified by the Bieneninstitut Kirchhain.
This highly sophisticated device is installed on a tripod and disposes of 2 functions.
 The first function is the one that is well-known so far where you have to pull and push the hook using the handle.
You have to dispose a lot of experience in instrumental insemination to use this function. This allows working really fast, but you need steady hands and a lot of concentration to make the movements controlled.
The second, new function, allows an exact and one hundred percent controlled movement of the hook because of the use of rotary screws.
This function is thus suitable for apprentices and people with low concentration.
It is true that this function is a little bit slowlier but the accuracy of the execution is completely exact.
The device is patented in Iran.
 Advantages of the device:
 1. Apart from all the adjustable parts you can adjust the height of the two bases of the tripod.
2. You can install all types of insemination syringes.
3. While collecting semen you can easily and fast make some open space to rest your hand by dismantling the unused parts.
4. You can measure the opening of the abdomen of the queen bee using the micrometer system of the rotary screw. ( This is especially important for apprentices)
5. All types of  hooks or sting fixers can be installed on this device.
6. This device has a keenly membran syringe made of stainless steel.
7. This device provides a brand new sling system to fix the queens sting. You can work up to 70 percent faster and the risk of hurting the queen bee is extremely low.
8. We grant 5 years of guarantee on this device.
 Please send questions and orders to the following e-mail adress:
Ali.Ataeian@talghihe-malekeh.com